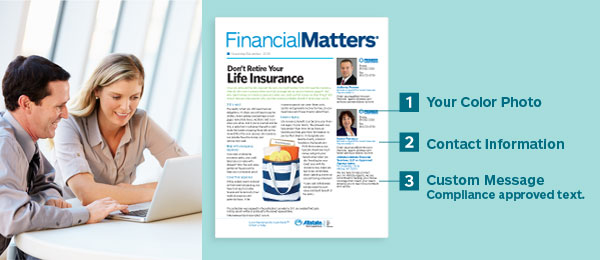 Financial Matters

®

is a proven marketing tool for Allstate agents.
Four full-color pages of financial articles focusing on the concerns of your customers.
Compliance-reviewed by FINRA and endorsed by Allstate.
Personalized with your agent photo and contact information.
Available in two different versions:
Published six times per year.
Eligible for Executive Advantage Plus program. View the FAQs.
By sending Financial Matters® on a regular basis, you benefit from keeping your name and face in front of your customers. This is an excellent way for you to "keep in touch" with your customers and create awareness that Allstate offers a variety of financial products to help with their life and retirement needs.
Get started today!
Click here for an order form or call 800.243.5334 to subscribe.
Issue
Article Summary
on Website
Last Day for
New Orders
Last Day for Subscription
Edits
Payment Processing
Ship Date
Sep/Oct 2017
6/1/2017

7/14/2017

7/20/2017

7/21/2017

8/31/2017

Nov/Dec 2017

8/1/2017

9/15/2017

9/19/2017

9/20/2017

10/31/2017

Jan/Feb 2018

10/2/2017

11/15/2017

11/20/2017

11/22/2017

12/29/2017

Mar/Apr 2018

12/1/2017

1/15/2018

1/21/2018

1/23/2018

2/28/2018

May/Jun 2018

2/1/2018

3/15/2018

3/21/2018

3/22/2018

4/30/2018

Jul/Aug 2018

4/2/2018

5/15/2018

5/18/2018

5/22/2018

6/29/2018

Sep/Oct 2018

6/1/2018

7/13/2018

7/20/2018

7/24/2018

8/31/2018

Nov/Dec 2018

8/1/2018

9/14/2018

9/21/2018

9/25/2018

10/31/2018
If you're tired of spending your time addressing labels, applying stamps or carrying heavy boxes to the post office, we have a solution for you. With our state-of-the-art mailing and addressing equipment, we not only save you time and eliminate the hassle, we can get your mailing directly to your customers faster and for less money.
Premium Mailing Services — This is your one stop for printing and mailing.
Mailing Kit Services — We provide you with the tools to mail the newsletter yourself.
Maintain and track your customer list easily and efficiently for your newsletter.
Required data fields for the Mailing Services:
First name, last name, company (if any), address, city, state, zip code + 4 (if available)
Log in to the Mailing List Editor
How to upload your mailing list
We take privacy seriously. Your name and address are kept strictly private and will not
be re-sold or rented out to other companies.
* = Required Field