Financial Matters
®

E-mail Edition Newsletter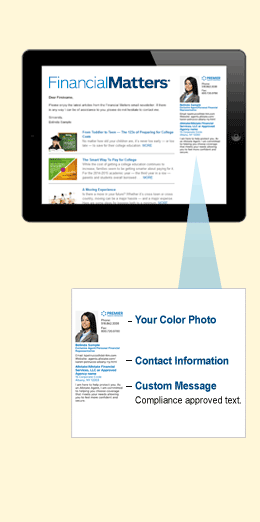 Financial Matters® E-mail Edition includes all the features of the printed version, but it's in HTML format and e-mailed directly to your customers.
Financial Matters

®

E-mail Edition is:
Full color and includes disclosures, greeting, summary of select articles, reply-to address and an unsubscribe option.
Topics include:

Financial (securities only)
Insurance (non-securities)

Published 6 times annually.
Eligible for Executive Advantage Plus program. View the FAQs.
By sending Financial Matters® on a regular basis, you benefit from keeping your name and face in front of your customers. This is an excellent way for you to "keep in touch" with your customers and create awareness that Allstate offers a variety of financial products to help with their life and retirement needs.
Get started today!
Click here for an order form or call 800.243.5334 to subscribe.
Click here for a PDF of the 2015 E-mail Edition Activity Schedule.
Start your e-mail marketing now!
Financial Matters® offers a full turnkey service for e-mail campaigns. It's an easy, cost-effective way to reach your customers. Our eye-catching E-mail Edition newsletter links directly to complete articles and can help generate leads, retain customers and close sales.
E-mail Services — Get full details on your e-mail campaign and tracking.
Maintain and track your customer lists easily and efficiently for both your Print and E-mail Edition newsletters.
Required data fields for the E-mail Edition E-mail Services:
First name, last name (if available), e-mail address and version (FIN or INS)
Log in to the Mailing List Editor
We take privacy seriously. Your name and address are kept strictly private and will not
be re-sold or rented out to other companies.
* = Required Field